Daum Nancy, Beetle Box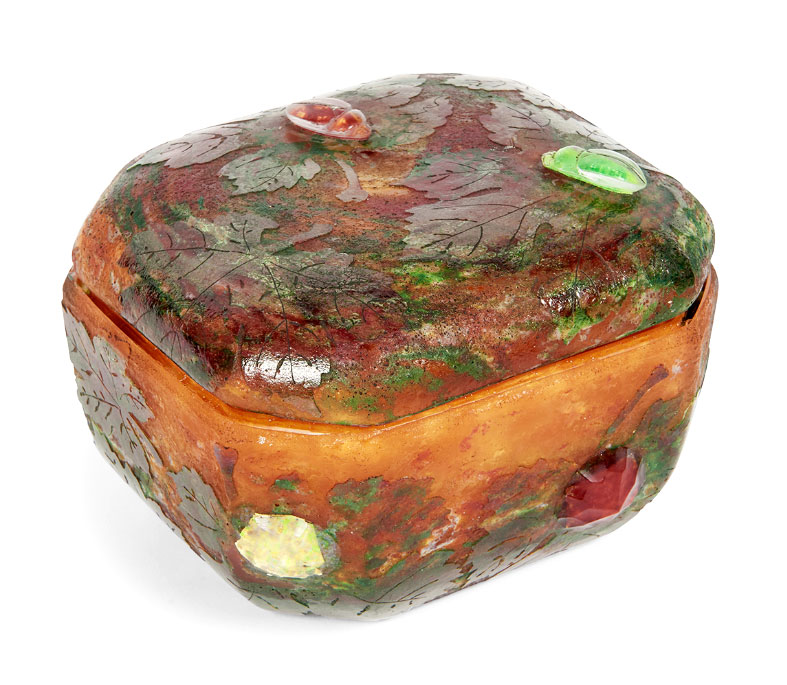 I recently acquired this special Daum Nancy box with applied and wheel-carved insects and cabochons. It's a very sophisticated box with multiple, labor-intensive, techniques utilized in its manufacture.
First the box cover and lid were formed by the gaffer, followed by layering with colored powders (for the leaves and background) in a technique called vitrification, making the lid, especially, look like the floor of the forest. This was followed by the application of colored metal foil to the surface beneath each insect and cabochon. Each piece of foil was then covered with a dollop of clear molten glass.
After cooling, the box was given to the carver, who hand-engraved the detail into the three insects and two cabochons. They appear to be colored because of the refraction of light coming from the colored foil underneath. They are actually clear glass. Finally he hand-engraved the signature on the underside.
It's a gorgeous, important box, for the best collections. Nice size at 4½" square. Excellent condition.